On the Scene: What It's Like To Be A Salvation Army Chaplain
20 March 2017
By Pastor Alexis Twito
Chaplain Coordinator
My phone rings. There's an emergency. They need me to respond; I'm on-call.
I wipe the grogginess from my eyes. Get my shoes on. Grab my keys. Head out the door.
Before I leave, I check my trunk: Do I have my red chaplain vest? My badge? My resource guide and notebook? Extra blankets and bottles of water? Check, check… check… check, check.
I'm ready. Look at the address again. How am I going to get there? And which way do the police want me to enter? OK, got a plan. Now, off I go.
I get close; police cars are surrounding a large area blocked off with yellow tape. I've arrived. I park, but before I get out, I take a deep breath and pray. "Lord, use me. Give me the words to speak comfort and peace." Then I hop out, get my vest and badge on, grab my notebook, and head over to the perimeter, where a couple of officers in their squad car are holding the line. I introduce myself: "I'm Pastor Alexis. I was sent as a chaplain to this scene. I'm here to report to your on-scene commander."
The Salvation Army Chaplains at a vigil for Za'layia Jenkins, 9, who was shot and killed in May 2016.
Sometimes they make me wait while they radio for permission to let me in. But today, one of the officers — he looks so young — tells me to come with him as he brings me to the sergeant on scene.
I never know what I'm going to see as I cross the line. Are there lots of neighbors looking out their windows or gathering on their porches to watch? Is a crowd of friends and family gathering at the line, clamoring for answers, grief-stricken, fearful, angry, shocked; or are we alone for the time being? Are there lots of officers present working the scene, or just a few? Every scene is different.
I wait for instructions. Sometimes from the sergeant, other times from the detective on scene. They describe the situation. What's happened as far as they can tell, who the victim is, if it's known... Witnesses, family — who's who. Then we're often told that we'd best be used by talking with so-and-so. Or, we're left to our own devices.
I meander over to a group of family members. I introduce myself. Check in, ask if there is anything I can help with. Many times they have lots of questions for me, and I try to help them understand what the officers are doing, how their process works, why it takes so long. Other times, they don't want to talk. Not yet. But, I'm there. And, I wait. We wait a lot on scene, actually.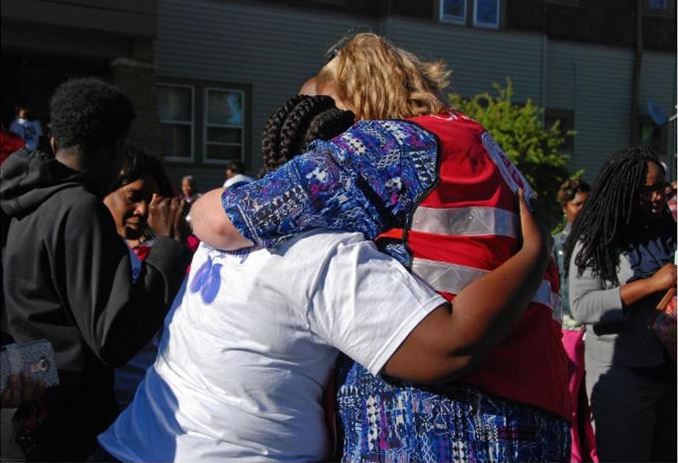 Pastor Alexis Twito (right), a chaplain, hugs Destiny Boone during a march honoring Destiny's 9-year-old daughter, Za'Layia Jenkins, who was shot and killed in May 2016.
Eventually, they might open up and tell me stories of their loved one. They tell me more about their family. Sometimes they ask me to pray with them. Sometimes I ask if I may pray with or for them. I ask if they have a pastor or faith leader that I could call for them. Or if there is anyone who needs to be there who isn't.
And mostly, I'm just there. Present. Prayerful. Peaceful. Ready to go or move or talk or pray. Whatever is needed.
Sometimes the immediate family members don't want to talk. I understand. It's hard. So I talk to extended family. I pass out a lot of cards — "please, call me if you need anything." I also get the number of at least one family member so that I can follow-up in a day or so. I explain that we can assist them with help around burial services, direct them towards grief counseling, help them find someone to clean up the home in the aftermath of the tragedy, and get them connected to whatever else they might need in those coming days and weeks.
My job is to care for them in and through the crisis, then position them so that they are connected to the resources they need for long-term care.
The Salvation Army Chaplains gather to pray.
Sometimes they call. Sometimes they don't. But regardless, I'm glad we're there. A reminder in times of crisis that people are not alone.
After a couple hours, the officers tell me they are wrapping up the scene. I'm free to go home. So, I say my goodbyes, pass under the yellow tape, and walk back to the car. Hoping that I am not called out again anytime soon, but glad that other chaplains like me are available when we do get called to come on the scene for the next traumatic incident.